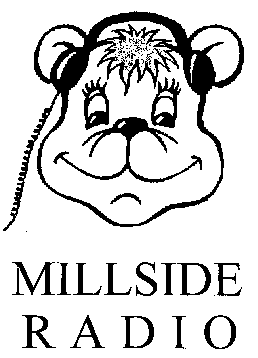 You may not realise it, but Millside Radio has been on the air for over twenty five years!
We had a very gentle start, helped by a number of enthusiasts and by our sister station in Nottingham, NHR, ......
1989
Let's take you back to the 20th October of that year. Picture a cold, damp night, the wind is howling, the rain is pouring and a new hospital radio service is born. Millside, the hospital radio service for Mansfield and Ashfield came into fruition due mainly to the hard work by Mr Pete Haslam, who had been working on the project for many years. At the start, there were only four members, Mike Bargh, Pete Haslam, Mark Simpson and Bill Purdue.
Millside had no studio or premises of any kind, so how did we make the programmes for the new radio service? Well, this was thanks to Nottingham Hospital's Radio who at that time had the luxury of four studios at the Queen's Medical Centre, Nottingham. We were able to collect requests from people in the Dukeries Centre at King's Mill and then dash down to Nottingham to put the programme together. Back at King's Mill, Mark Simpson was busy connecting the wires from our cassette tape recorder (the only equipment we had at the time) to the hospital distribution system sited alongside the water tanks in the attic of the Dukeries Centre.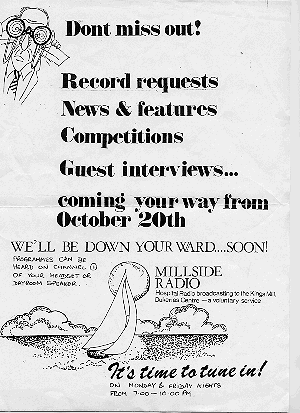 With all the work done, Millside Hospital Radio went on air at 6:00pm on Monday 20 October 1989 and our listeners were able to pick us up on channel one of their headsets.
1990
In March of that year, the hospital was in a position to make available part of the old Occupational Health area to Millside. This meant that a permanent studio could be built enabling live programmes to be broadcast. This was brought online on Easter Monday with the first live programme on Millside, the 'Television Show' presented by Mike Bargh and Mark Simpson.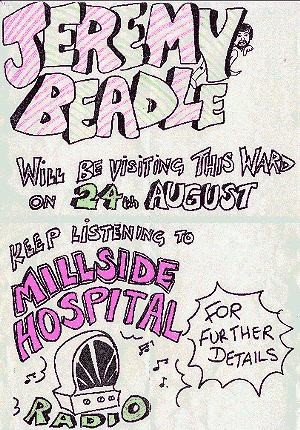 On 24th August 1990, the late Jeremy Beadle officially opened Millside. Jeremy spent the whole day with us, visiting many of the Hospital wards and joining us in a live interview. In the afternoon there was an official opening ceremony attended by members of the hospital trust, local dignitaries from Mansfield and Ashfield along with Millside members.
More photos of the opening day here
1991
An extra room was made available enabling a second studio to be built. This became the on-air studio and the existing studio was developed into a production/standby facility. Milly - the Millside logo - was 'born' in this year. A graphic designer produced eight different designs. Patients and staff around the hospitals were asked which design they preferred. The results were clear, and Milly the Bear has represented Millside Radio ever since!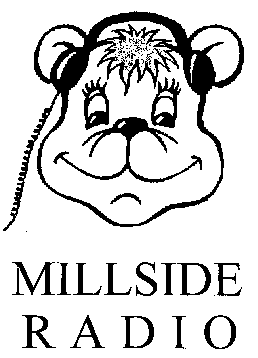 1992
Broadcasting was extended to cover the Mansfield Community hospital one mile away. Programmes were made available on channel 1. In addition to normal programming, Millside provided an overnight service for Ashfield Community Radio, a restricted service license (RSL) which was focused on the annual Ashfield show that year. This was the first of a number of such co-operations with local organizations over the next few years.
1993
Twelve new wards were opened in the King's Mill centre, and broadcast programmes were made available on channel 15. Programmes were extended to cover Sundays.
1994
Millside celebrated its fifth birthday, and invitations to join the festivities were extended to people inside and outside the hospital. A live party programme was transmitted across the hospitals and the whole Mansfield and Ashfield area with help from Sherwood Community Radio RSL.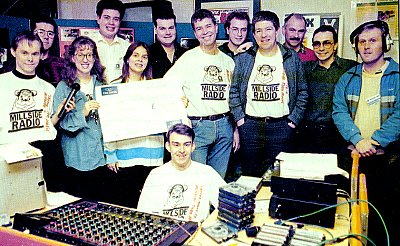 Find out about more recent events
here
.
Millside Weather
---
Keeping It Local!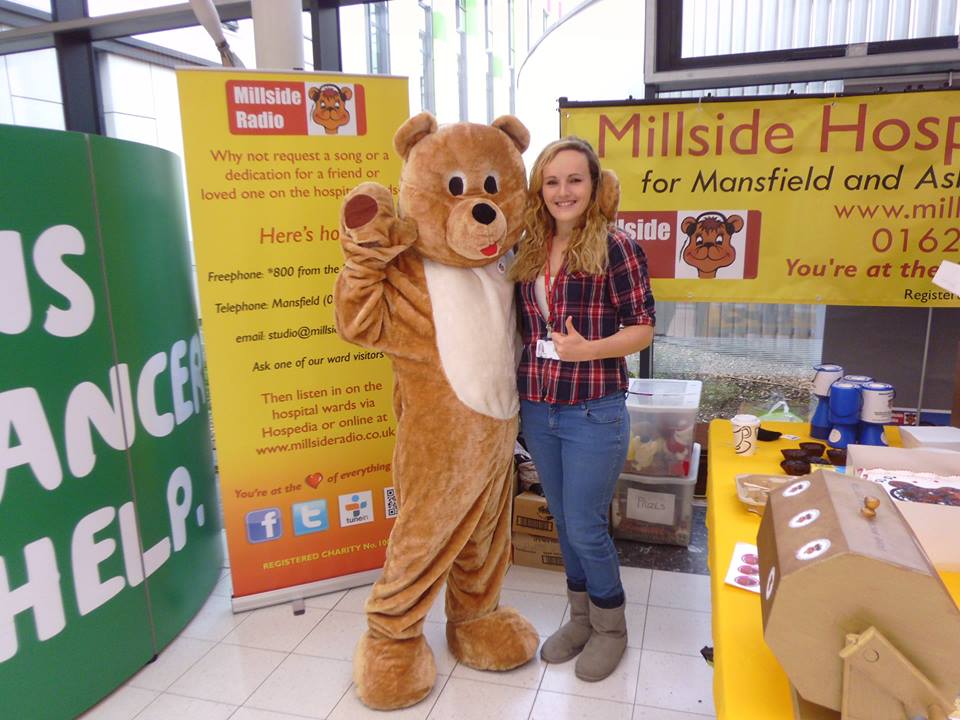 Millside Radio will have fundraising stall in the clinics area of Kings Mill Hospital later this year!
Contact Details
Help Support Us
Millside is a registered charity and is dependent on donations and fundraising. If you want to help us please click below:
Visitors Online
We have 62 guests online
The Team
Steve Jowle

Thursday Afternoon Show

4pm-6pm Saturday

Roy Wetton

Brought to Light

8-10pm Tuesday

Roots, Rock, Reggae

8-10pm Thursday

Richard Burgoyne

The Weekend

2-4pm Saturdays

Andy Barlow

The Love Doctor

10-12pm nightly

Peter PIper

Pick 'n' Mix

6-8 pm Monday

After Midnight

Midnight to 6am daily

Mark Lindsay

Late Breakfast

8-10am daily

Mike Thornley

Pillowtalk Show

8-10pm Friday

Julie Smart

Afternoon Show

2pm-4pm Weekdays

Pillowtalk

6-8pm Saturday

Barry Parsons

Golden Oldies Show

10am-noon Thursday

Sue Smith

Teatime Showstoppers

4-6pm Monday

JT

Breakfast Club

6-8am weekends

JT's Big Thing

8-10pm Wednesday

Andy Young

Pillowtalk

6-8pm Thursday

The Morning Show

8-10pm Saturday

Ashley Hardy

Saturday Club

12-2pm Saturday

Martin Hoole

The Sunday Roast

Noon-2pm Sunday

Sarah Bailey

Mid Morning Show

10-12am daily (except Thursday)

Charlie Brown

Lunchtime Show

Noon-2pm weekdays

The Weekend

2-4pm Saturday

Mark Underwood

Teatime Show

6-8pm Tuesday
Millside Pictures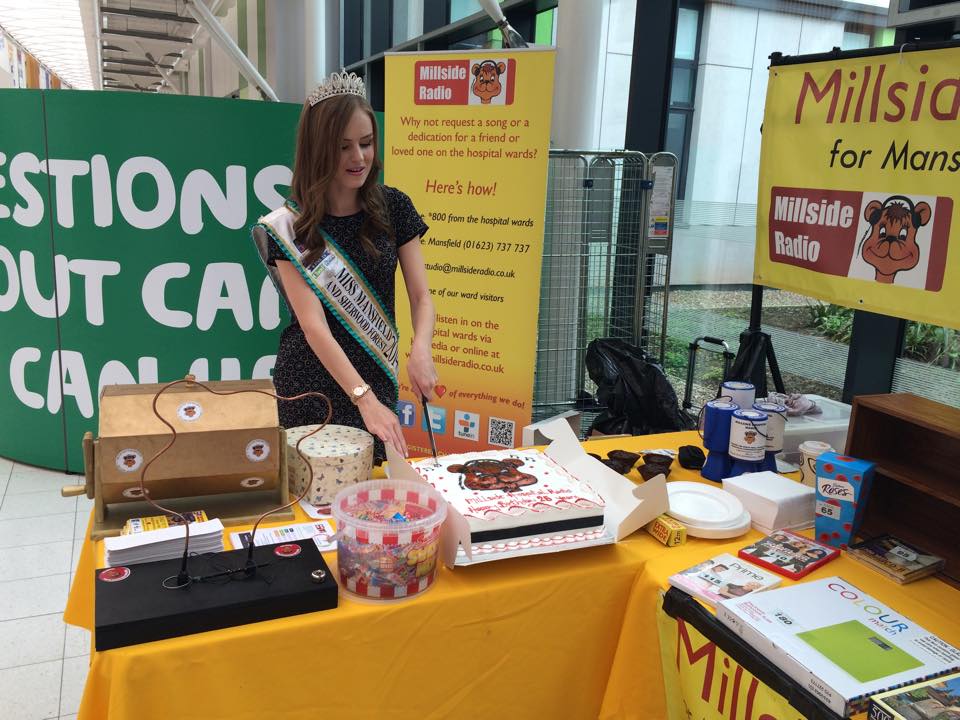 We Need You!!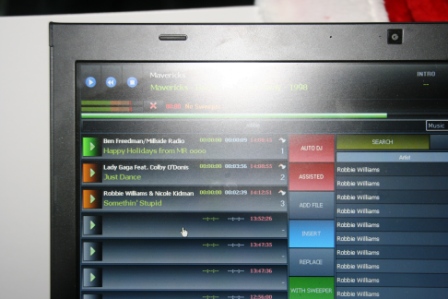 Millside is always on the lookout for new members.
Engineer, Fund raiser, publicist, presenter or treasurer we need you!
If you think you have what it takes, please get in touch with us on 01623 737737 or drop us an email at studio@millsideradio.co.uk