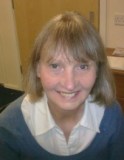 I started at Nottingham Hospitals Radio way back in 1970s when they were at the City Hospital. They later moved to Queens Medical Centre.
I was only involved in the Admin and Ward visiting there but since joining Millside Radio I have become a presenter as well which I thoroughly enjoy.
I still help with admin tasks,such as cataloguing CDs, fund raising etc. I also work in the Daffodils Coffee Bar when not involved with my studio work
I present
'Teatime
Showstoppers' every Monday between 4 and 6pm.
Monday 4-6pm