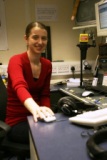 Hi there I'm Sarah.
Millside aims to make your stay in hospital a bit more pleasant and I want to help with this by bringing you great music and fun items for you to get involved in, brightening your stay and making you feel good. My music tastes are varied – I grew up listening to everything from the Rock n Rolling 50's to the Indie driven Noughties and beyond.
I'm on the air weekday mornings between 10 and 12
Go on, tunein, you know you want to!