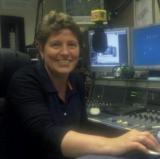 Hi Folks.....I've lived and worked within the Mansfield area for as long as I can remember. I first joined Millside just after its launch. Having had a break I realised I still had the radio bug and decided to return...
You can find me on air between 6 and 8 on a Saturday evening...with something old and something new at 6, flirty at 6.30, the backtracks competition and the jokes as well as a visit from our gardening expert, plus your requests and dedications.
For my sins I am also the station treasurer and try to keep Mark Underwood under control during his show Tuesdays 6-8pm.
Saturday 6-8pm