Topping Out Ceremony for the Third Tower.
 On Thursday 6th August a Topping Out ceremony took place to celebrate the completion of the highest point of the third tower at King's Mill Hospital.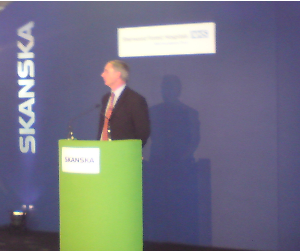 Steve Tavener, the Project Director for Skanska started the proceedings on level C  speaking to a party of guests from the hospital and local area. A small group including MP for Ashfield Geoff Hoone, Chair of the Trust Tracey Ducet, and Chief Executive Jeffrey Worrell went onto the roof of the tower and helped put the final piece of concrete in place. A crane was then used to lift a fir tree over and across the roof to symbolise completion of the ceremony.


The party then joined the other guests on level C and speeches were made by Executive Vice President of Skanska Mike Putnam, Tracey Ducet and Geoff Hoone.

The ceremony marked another stage toward the completion of the new hospital scheduled for January 2011.


For more information about Topping Out, click here.
Contact Details
Help Support Us
Millside is a registered charity and is dependent on donations and fundraising. If you want to help us please click below:
Millside Pictures