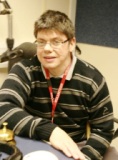 My name is Richard Burgoyne. I have studied Leisure and Tourism, Health and Social care and Business administration.
I also am a volunteer for the Salvation Army and a member of Mansfield Harriers athletic Club. My events are club shot and discus. I also do winter training at Hucknall Leisure centre.
I have been to Russia, Belgium and Germany.
I think my strengths are that I am helpful and a good listener. I hope I have a lot to offer as I can also appreciate what it's like to be in hospital. I am really enjoying my time at Millside!